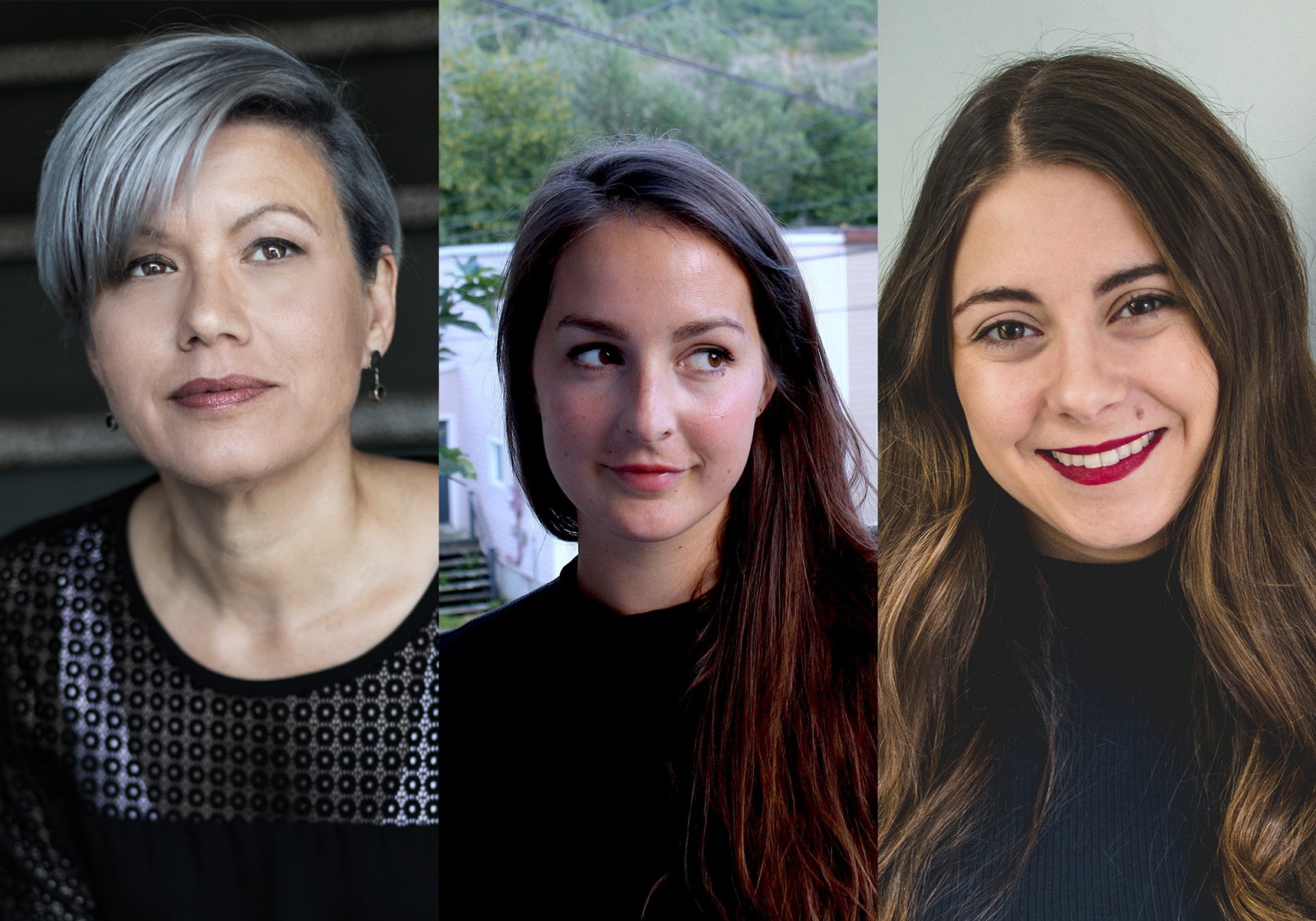 FOR IMMEDIATE RELEASE:
Poverty Cove Theatre Company is pleased to announce new Artist Associates Emma Tibaldo, Emily Bridger and Elizabeth Hicks.
Tibaldo, a long time collaborator with the company, will continue to work with PCTC in an official director/dramaturg role as the company moves to formally shift into new creation focused work. All of PCTC's productions to date have been new work by emerging Canadian playwrights.
"Poverty Cove Theatre Company is centred around the artist and the process of creating. Built around the deep understanding that a playwright embarks on a new process of discovery with every new creation-the development process will be unique and tailored to the exigencies of each. Megan and I have cemented a profound respect for each other's work and creativity over a decade of collaboration and are eager to share what we have discovered with other creators. We are committed to offering playwrights the essential time, space, and respect necessary for a deep exploration of their creative worlds." —Tibaldo
Joining Coles and Tibaldo will be emerging theatre artists Emily Bridger and Elizabeth Hicks both of whom have worked with Coles in the past.
"Something I've learned working as an artist in this province is that collaboration is an essential part of my process. My greatest realizations have grown from working with other artists in process — buoying one another while encouraging a deeper look into the work — into the dark and sticky spots where the truth often lies. I've watched, admired and been inspired by the work of Poverty Cove for as long as I've been diving into my own work. I am so honoured and excited to be embarking on this journey with Poverty Cove and look forward to the collaboration and discovery to come." —Bridger
Bridger and Hicks will be developing new work while Artist Associates at PCTC as well as contributing to the creation and development of additional company projects including Coles' new work.
"Theatre in Newfoundland and Labrador is special. We are geographically marginal, but that isolation has led to the ripe and deep-rooted stories that emerge from this place. I am consistently inspired by the work that happens in this community. I've been fortunate enough to have kept working in live theatre here in Newfoundland throughout the pandemic, but it has not been without struggle and anxiety. That said, an upswing has been forging its way! The re-establishing of Poverty Cove Theatre Company is a win for theatre-makers and audiences, and I am thrilled to be a part of it. PCTC's goals line up with the things that excite me most in Canadian theatre: making unconventional, risky, and challenging work. What do we consider to be "theatre", and why do we feel that way? How can we challenge those expectations? Having the chance to collaborate with and learn from Megan, Emma, and Emily is a privilege; having this space and support to write and create something new is a gift." —Hicks
Poverty Cove Theatre Company was founded by Megan Gail Coles and Shannon Lynn Hawes in 2009. In the decade that followed, Coles and Hawes led the company as the creative driving force writing and producing Coles' work as well as work from other emerging playwrights focused on marginalized communities. The plays PCTC produced strongly examined how growing inequality threatens the social fabric and progress of the country. In 2014, Hawes left the company to permanently pursue opportunities in Toronto. Coles remains the Artistic Director and Playwright In Residence.
Further information about upcoming performances and programming can be found at povertycove.com