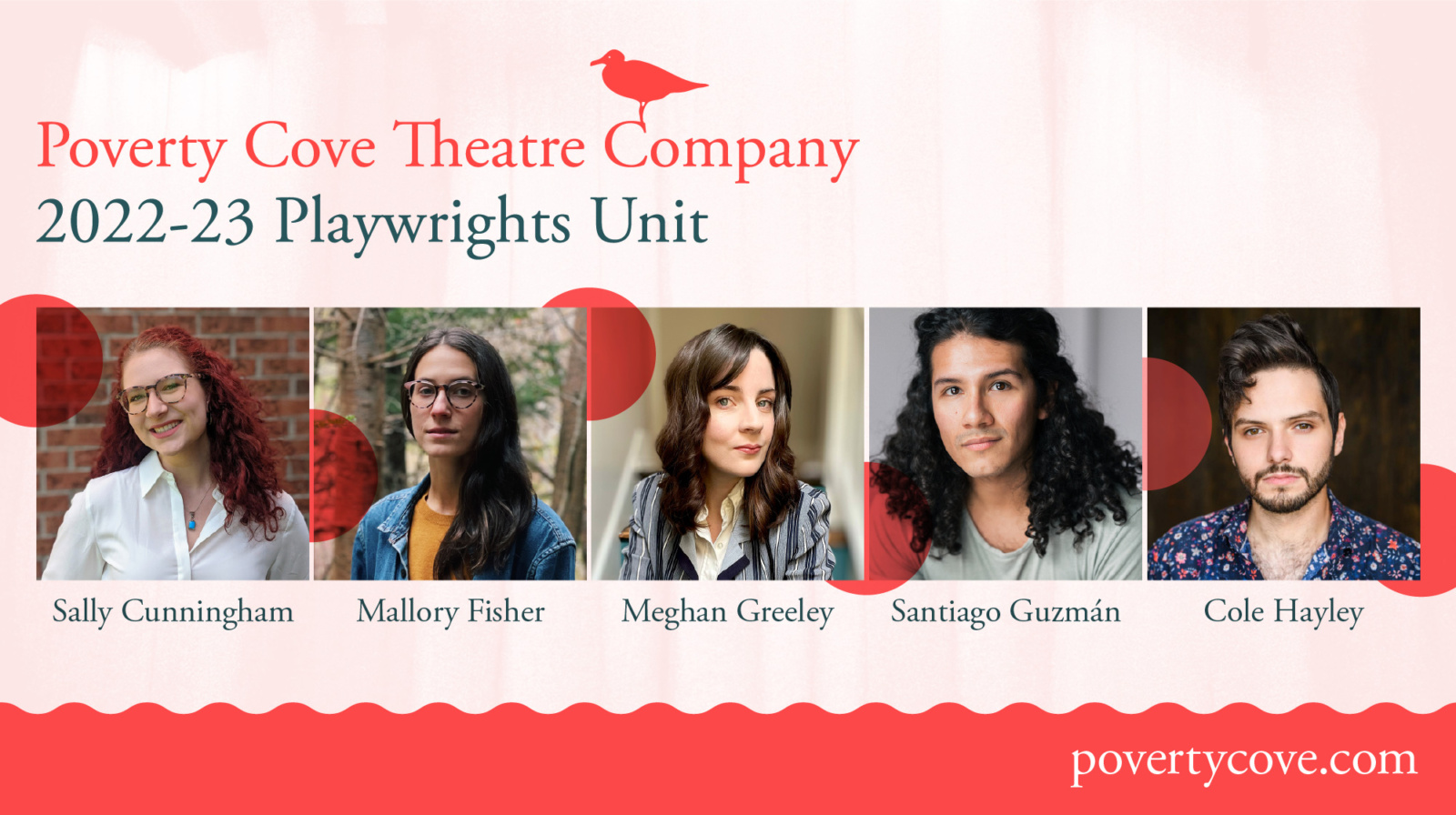 February 25, 2022
FOR IMMEDIATE RELEASE:
The PCTC Playwrights Unit will consist of four professional playwrights for the duration of two years as they each develop a new NL play to production-ready draft. The intake procedure will consist of an open and transparent submission process with selections being made by full company member consensus.
PCTC AD Megan Gail Coles will act as initial dramaturge on first and second drafts with Artistic Associate and company lead dramaturg Emma Tibaldo to provide additional dramaturgical support upon the playwright completing a workshop-ready draft at the end of the first cycle which will be approximately 12 months from date of intake. At the end of year one, each playwright will receive a week-long, in-person workshop in St. John's. Playwrights located outside of the Avalon, in rural-remote regions of the island or Labrador will be offered the choice of travelling to the city or holding a workshop online.
Workshops will consist of all unit members as well as Artistic Associates, Emily Bridger and Elizabeth Hicks. Additional actors will be engaged in the event there is no one appropriate to cast from the creative team and/or unit to properly workshop the reading of the plays. Any additional workshop fees required will be absorbed by PCTC. Playwrights will then re-engage with their plays in the second cycle applying relevant unit member and dramaturgical notes to the progressive drafts leading to a production-ready draft for a week long, standing workshop at the end of the second year cycle. Tibaldo will act as director for the purpose of this workshop.
Throughout this process, PCTC will also lend unit members professional development support by way of assisting with playwright funding applications as well as providing reference letters required for these applications. Playwrights retain all rights to production of these plays. PCTC does not require first right of refusal on these plays. Only Playwrights-In-Residence will be expected to maintain a first right of refusal relationship with the company. Playwrights who would like to submit their work to PCTC for possible production are permitted to do so though PCTC will support their submission to whichever theatre company the playwright prefers in whatever manner is appropriate.
To submit send a draft of play in progress and CV to povertycovead@gmail.com. Playwrights must currently be residing in Newfoundland and Labrador to be eligible for this unit.
This is a paid professional playwriting unit. Playwrights will be paid $3000 per cycle in two instalments to support the writing phase of development. Deadline for submission is May 15, 2022. Only successful unit members will be contacted directly. Unit will be announced by July 1, 2022.